Okay - well this number was my fist dabble with a stretch fabric and only because I'd bought the pattern cus I liked the shape and then realised it need a two-way-stretch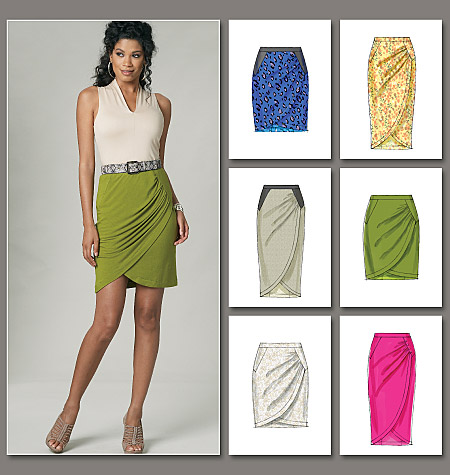 VOGUE 8711
If memory recalls the fabric was a great price at £3.99 mtr. So a good cheap wardrobe item.
Ended up having to lengthen the short version ! as the long was neither here nor there- consciously dropped the length of my hem line some years ago with fear of baa-baa-baa ( mutton-lamb... say no more.)
The side patch detailing took a couple of attempts - to ensure even seam lines and matched-up. pickie pickie meXX
Lovely shape and flattering, It's a really comfy skirt to wear due to the elastic waist, and can be dressed up n down - might do one for my sister who lives in Canada, ( don't hold your breath though Lol if you read this x ) at some point as she could easily adjust the elastic to suit.
blimey- I look like a giant - I can get through the doors in our house .. honest